BLS Provider (Basic Life Support) ,(CNW)
BLS has replaced the HCP (Healthcare Provider) course. Heart & Stroke 1 year certificate (AHS approved)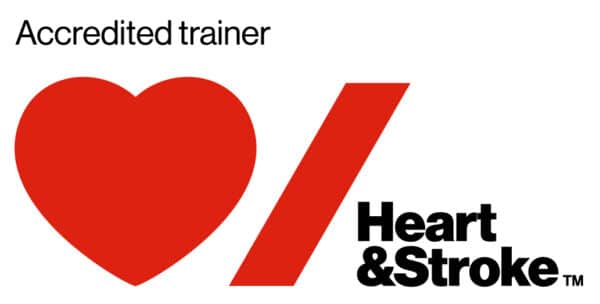 BLS Provider (Basic Life Support – Healthcare Provider)
BLS Provider is an instructor-led fundamental course for all healthcare and emergency medical providers, intended to help you improve patient outcomes. You will learn single- and multi-rescuer basic life support skills with a focus on high-quality CPR and team dynamics in a wide variety of prehospital or in-facility settings. BLS is a pre-requisite for advanced resuscitation courses and many healthcare-related training programs. Current certification is often required for employment in the healthcare field and Heart & Stroke certification is the only one accepted by Alberta Health Services (AHS).

A 4 hour course. This course meets OH&S, Federal and Provincial regulations for Basic Life Support. BLS has replaced the HCP (Healthcare Provider) course.
FEATURES
Reflects science of the most recent Guidelines Update for CPR and ECC

Hands-on class format reinforces skills proficiency

Emphasis on high-quality CPR including team dynamics 

Video-based course with real world scenarios
​

In-Class Skills: 4 Hours
Basic Life Support (BLS) is the foundation for saving lives. It is designed for healthcare providers and trained first responders who provide care to patients in a wide variety of settings or by those in a healthcare training program.
Basic Life Support teaches single-rescuer and team basic life support skills for application in both pre-hospital and in-facility environments, with a focus on high-quality CPR and team dynamics.
It will train you to quickly recognize several life-threatening emergencies, give high-quality chest compressions, deliver appropriate ventilations and provide early use of an AED through simulated clinical scenarios and learning stations.

Location & Contact Details
1835 20 ave NW Calgary, AB (Action Edge Building)
+1-587-5571073
info@bigheartsfirstaid.com
Cancellation Policy: You may cancel within 24 hours of the original booking time. There is a $5 transaction fee to cancel. Rescheduling can be done up to 48 hours before the booking free of charge. Rescheduling after 48 hours will result in a $25 administrative fee.